Chalet d'Ert (Art's Chalet from the local language) is a mountain holiday home with a truly special soul, ideal to relax and enjoy the time with your family and friends.
Here, Art and Tradition melt creating a place of unique taste and great aesthetic harmony, sometimes an inspiration for the most sensitive minds.
The house is thought to recall the shape of a old barn: its semicircle-shape collects the sound of the river flowing near by and protects the house from the cold wind coming from North. Big windows let loads of light in and allow a great view of the nature outside, while white tends soften the atmosphere up.
Split over 3 floors, It's divided into 2 independent apartments: a deluxe flat for 6 people and a standard flat for maximum 4.
The house is surrounded by a vaste private garden, which on the backside it's fenced and enriched by two covered dining areas and poufs to enjoy the time in the open air.
The effort we put behind every single details translates in the love perceived by our guests, truly happy to be here, to sleep well, to hear the sound of the stream at night, to breath fresh air and drink pure water.
We believe in the freedom of expression, in the healing-power of Nature and in a life lived surrounded by emotional objects and beautiful pieces of furniture. Colors plays a fundamental role, textiles and patterns do too.
Our aim is to offer a luxurious stay, conceived in its most genuine and joyful sense.
Designed
for lovers,
dreamers,
experiencers.
CONCEPT and manager
Giulia Bortolini
architect
Karl Heinz Castlunger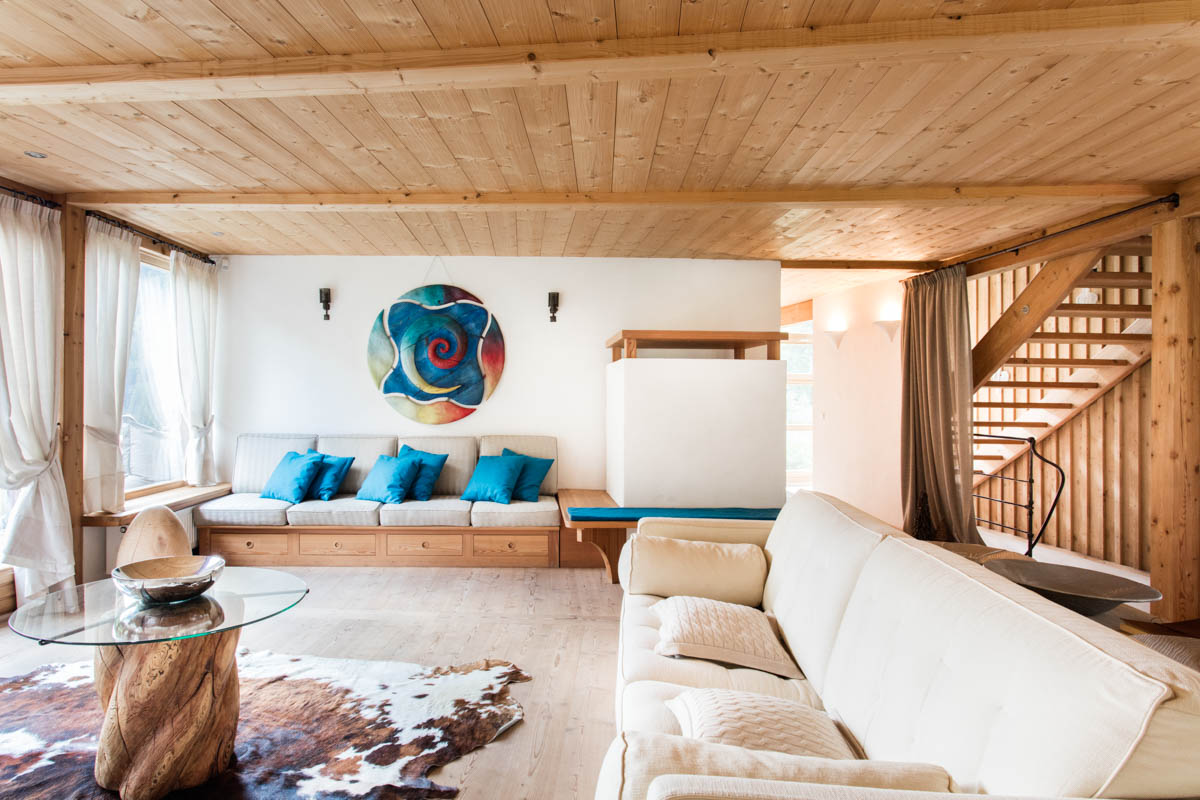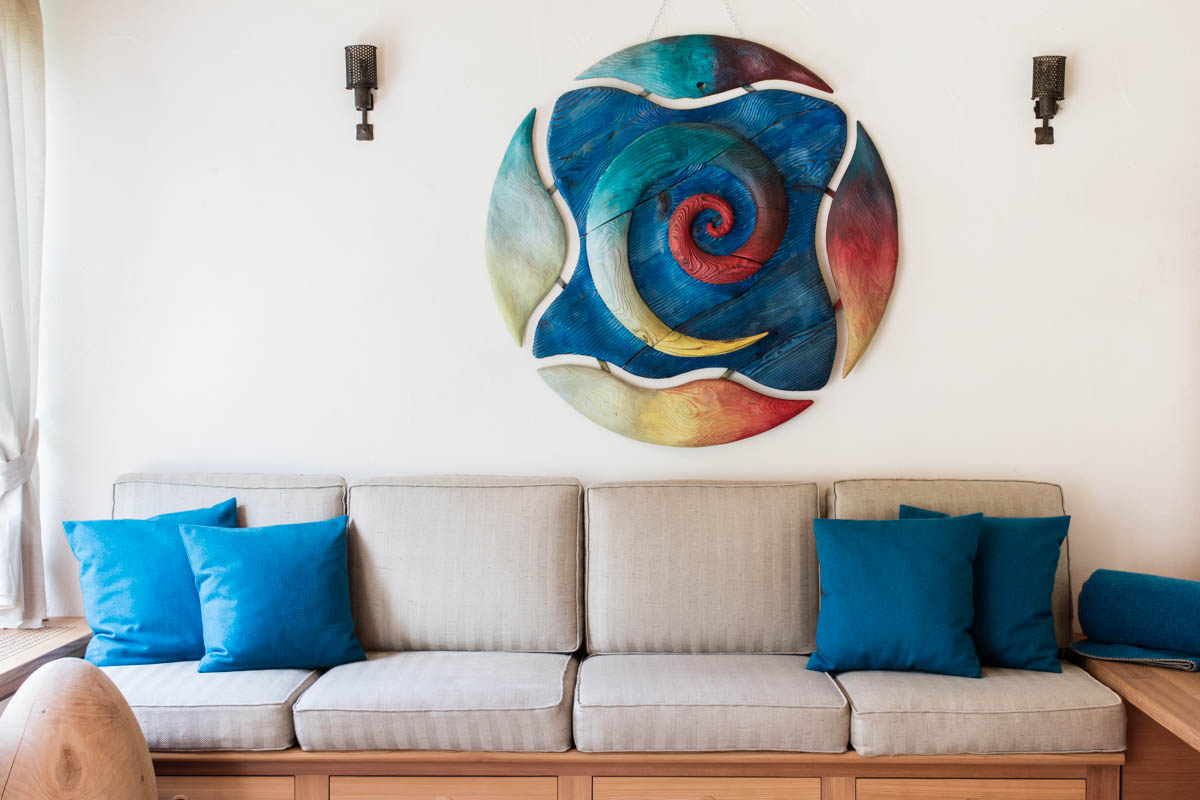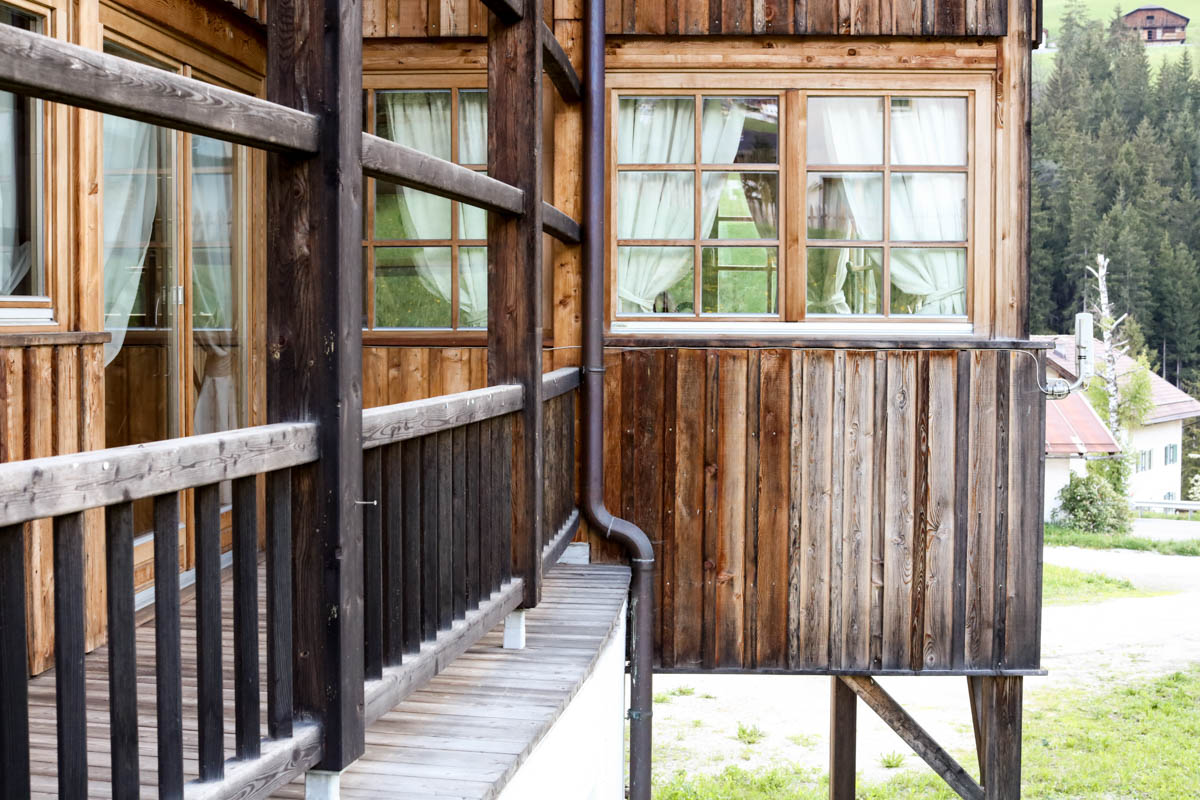 MASTER FLAT
3 FLOORS
6 SLEEPING ACCOMMODATIONS
1 MASTER DOUBLE-BEDROOM WITH EN-SUITE BATHROOM AND HOT-TUB
1 DOUBLE-BEDROOM WITH STUDIO-AREA
1 BEDROOM WITH TWO SINGLE BEDS
1 SHARED BATHROOM WITH SHOWER
1 SMALL BATHROOM
SPACIOUS LIVING-ROOM WITH SOFAS AND POUFS
FULLY-EQUIPPED KITCHEN
FULLY-EQUIPPED LAUNDRY
STORAGE SPACE
TV/SATELLITE/DVD PLAYER
NETFLIX
HIGH SPEED INTERNET WI-FI
FENCED PRIVATE-GARDEN WITH COVERED OUTDOOR DINING TABLES
BOARDGAMES AND BOOKS
SKI-ROOM WITH BOOTS-DRYER
GAS BARBECUE
BED LINENS AND TOWELS
OSME' COURTESY PRODUCTS
KIDS EQUIPMENT
HAIR-DRYER
NO-ANIMALS ALLOWED
FREE PARKING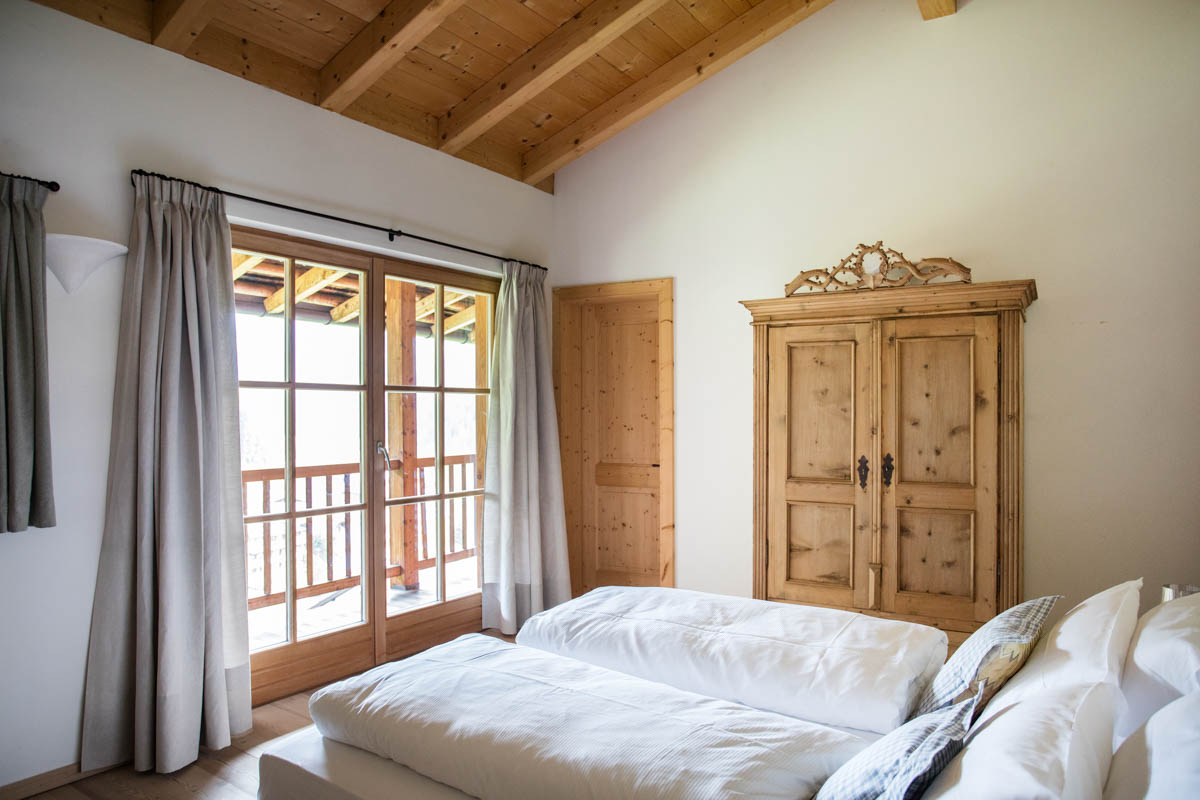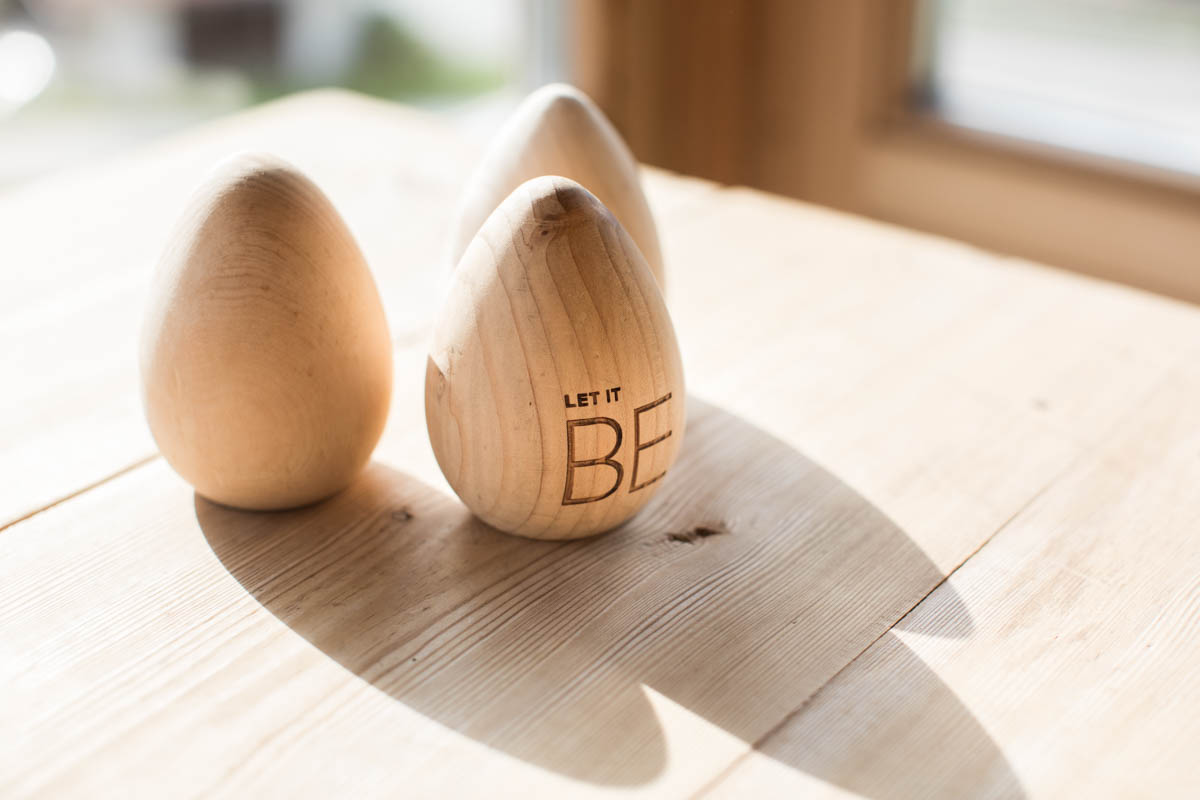 JUNIOR FLAT
AT GROUND-FLOOR
2 TO 4 SLEEPING ACCOMMODATIONS
1 SPACIOUS DOUBLE BEDROOM WITH GLASSED DOOR
1 BATHROOM WITH SHOWER AND WASHING MACHINE
OPEN SPACE LIVING-ROOM WITH 1 SOFA BED
WELL-EQUIPPED KITCHEN
TV
HIGH-SPEED INTERNET WI-FI
STORAGE SPACE WITH BOOTS-DRYER
TIROLESE FURNISHING
OUTDOOR GARDEN WITH COVERED DINING TABLE
BED-LINEN AND TOWELS
OSMÉ COURTESY PRODUCT
ANIMALS ALLOWED UPON REQUEST
FREE PARKING
la VAL, wengen (dOLOMITES, iTALY)
The house sits at the door of La Val, Wengen - a fascinating village in Alta Badia, well-developed touristic area of South-Tyrol, North-East of Italy. It's renonwed for its breath-taking scenearies, the multitude of outdoor activities and its peculiar ladin communities still very present and maintained pure up there. It's always worth a visit to the local farms and meet the workers dressed with traditional customs.
The main skii areas are easily reachable in 10-15 minutes by car or making use of the ski-bus stopping at key hours right in the front of the chalet. The lack of ski-lifts in La Val render this place an oasi of peace, ideal for infinitive walks in summer and snowshoeing in winter far from the mundanity and crowded touristic spots.
The shopping area of Pederoa (500m) offers an interesting variety of products including: flowers, shoes and clothing, traditional textiles, organic food, stationery. In addition there's a laundry, a mechanic and a veterinary. Food-shopping can be done in La Valle (1km), La Villa (5km) or Piccolino (3,5km) although small markets are just near by the house for emergencies.
Generally, Alta Badia offers a huge variety of restaurants of any kind and budget whereof some at small distance from our chalet: two traditional ladin restaurants, a pizzeria, a wurstl-place and a high-standard restaurant.
Despite the car is needed everyday, the chalet is located in a very strategical spot to reach the most beautiful attractions in Val Badia and surrounding areas.
ALTITUDE:
1250 m.a.s.l.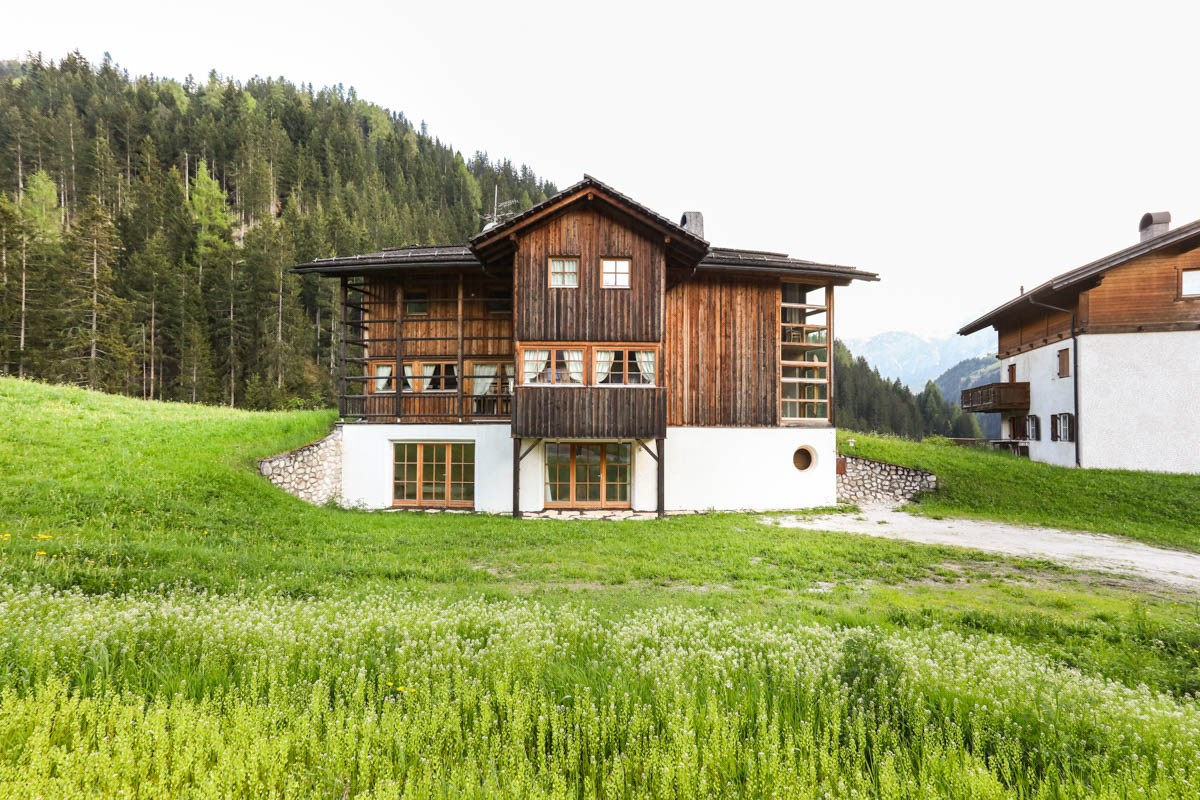 SERVICES
24/7 PERSONAL ASSISTANCE AND CONCIERGE SERVICE
HOME DELIVERY OF FRESH-BAKERY AND MILK-PRODUCTS
WEEKLY TOWELS CHANGE
WEEKLY BED-LINENS CHANGE
EXTRA CLEANING UPON REQUEST
PRIVATE CHEF UPON REQUEST
CONTACT US
holidays@chaletdert.com
+39 340 7301365
VAT Number: 01180880252
Via Pidrò, n.1 -39030 - La Valle, Wengen (BZ)
ALTA BADIA, DOLOMITES
ITALY